It's JUNE! School's out! Yippeee!!!! Growing up, I absolutely loved summer: it was as close to unsupervised, freedom as I have ever been. As an adult, I'm a little less thrilled with the prospect. Summer is a lot of work. It's exhausting. Summer camps, kindergarten prep summer school, bucket lists of adventures and all of the normal household stuff coupled with my own list of summer "to do" items that got shoved to the back burner while I was teaching. In truth, it's tiring but more importantly, it's a LOT of fun! One of my summer "to do" items is to edit some photos and scrap a bunch of RAK pages for friends.
The instant I saw Liz's template for this month's challenge I knew just the photo I wanted to scrap - one from my RAK list. This template is fun and light-hearted. I love the swirly, rolling feel of the circles and the easy progression across the page. This really is a fun template and I can't wait to see what you all do with it!
by Dagi
using Unconditional by Bella Gypsy
by Donna
using Splash by Dream Big Designs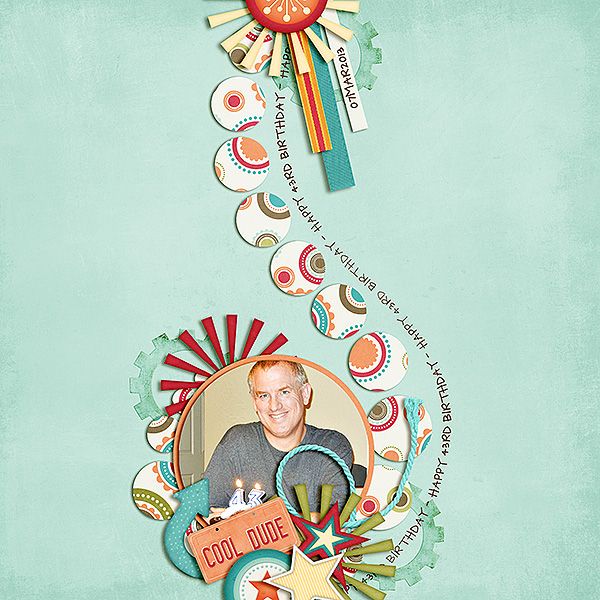 by Tracy
using Boy Oh Boy by Melissa Bennett
by Kimberley
using Hot Halloween by Lyndsay Riches
And I have one more (which is probably my personal favorite)! I love double pagers and Jenn took this fantastic template and made it just that - a fantastic double.
by Jenn
using Jack and Jill by Krystal Hartley
See what I mean? This is a FUN template! Many of you know what to do, but just in case you're new to our blog challenge. Here's the short version: download the template and use it then link us up to your image here in the comments section of this post. Easy peasy lemon squeazy! I'll be back the first Tuesday in July to randomly select a winner and post the July template. Everyone who participates earns a participation prize and our lucky winner gets $5 to Liz's store!
I bet you're wondering who won in May. It just so happens that I am the gal to tell you. Ready? Our winner for the May challenge is........Boxermom! Congratulations!
I'm on vacation in California with my family right now (gotta love that you can schedule blog posts in advance!) but I will send out prizes as soon as I get back home. Thanks so much for playing along this month! The entire team really enjoys seeing what you create.
As always.....Here are the official rules for our challenge.....
Use the featured template (above) to create a layout or hybrid project. Feel free to modify the template but make certain we can still recognize it as a version of the original.
Upload your completed layout to the ScrapPin gallery at Scrap Orchard or a photo sharing site of your choice. (Please do not upload to a site that will require me to register in order to view the layout. Use either a Scrap Orchard gallery or someplace such as Photobucket or TinyPic to host your layout)
If uploading to the ScrapPin gallery at Scrap Orchard please include the following in addition to your other hashtags: #swlblogjune2013 (feel free to copy and past this hashtag)
Come back to this blog post and leave a comment with a link to your completed layout by June 30, 2013
Winner of the $5 coupon will be chosen and announced the first Tuesday in June! Non-winning participants will receive a participation prize so remember to leave us a way to reach you when you link your layouts!
Happy Scrapping!
Kimberley