According to a national calendar day website, August 5th is National Work Like A Dog Day, National Underwear Day, National Oyster Day and National Night Out Day. That's a really diverse group of days. One of them, National Work Like A Dog Day, got me thinking.
Looking around the room, our three dogs are lounged about, and clearly not working. The phrase, "It's a dog's life" comes to mind. Only the English language would have two everyday idioms that are so clearly at odds with one another: "it's a dog's life" and "work like a dog". How confusing!
The first refers to dogs being able to laze around and sleep all day, having no issues or worries other than making it to their dish at meal time. The second, "work like a dog" suggests quite the opposite. It means working to your best ability for extended periods of time. So which is it? Are dogs lazy and aloof or hard workers with driven personalities?
I couldn't find an actual origin for "work like a dog", but I imagine it refers to true working dogs like sled dogs or herding dogs. Those animals that are bred to do a job: those that thrive and even enjoy the work. So, in honor of today's "Work Like A Dog" status, I want to challenge you to change it just a bit. Sometime this month, I challenge you to "scrap like a dog" and be a scrapper to is energized by the process. To help you, Liz has another awesome free template. It's Template Revisited 26.
DOWNLOAD DISABLED
There are a lot of possibilities with this one. You can use all the blocks for photos or only a few. Maybe you'll choose to combo them together for a bigger photo spot. I'm anxious to see what you choose. Here are a few of the layouts from Liz's creative team. Hopefully, you'll find something that inspires you.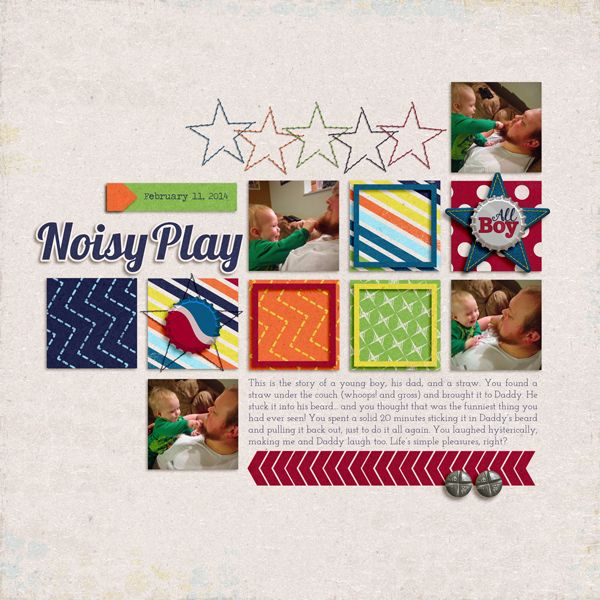 by Jen
using Little Boys and Tomboys by Kristin Aagard Designs
by Donna
using In The Backyard by Chelle's Creations
by Jessica
using Don't Blink by Bella Gypsy
by Kimberley
using Shabby Boho Bundle & This and That by Etc by Danyale
If you'd like a chance to win $5 to Liz's store, simply download the template and scrap a page. Feel free to flip, rotate, or invert it - change it up to make it yours. Then leave us a link to your layout in the comments section and complete your entry using our Rafflecopter survey.
July's winner is Stefanie S.! Watch your email for your winning prize coupon.
Okay, everyone! It's time to scrap like a dog. :)
Happy Scrapping!
Kimberley
(greenmother)
Use the featured template (above) to create a layout or hybrid project. Feel free to modify the template but make certain we can still recognize it as a version of the original.

Upload your completed layout to a gallery or photo sharing site of your choice.
If uploading to the ScrapPin gallery at Scrap Orchard please include the following in addition to your other hashtags: #swlblogaugust2014 (feel free to copy and past this hashtag)
Come back to this blog post and leave a comment with a link to your completed layout by August 31, 2014 and ENTER the Rafflecopter giveaway for your chance to win. Winners must provide a layout link in the comments section AND enter supply an email address in the Rafflecopter survey. We never share your information.
Winner of the $5 coupon will be chosen and announced the first Tuesday in September 2014! Non-winning participants will receive a participation prize so remember to leave us a way to reach you when you link your layouts. Don't forget to watch your coupon expiration dates!